June 28, 2014
Hi there,
If you have visited the All PPT Templates website recently, you would have found new content there. We have started posting PowerPoint tutorials. You will find shortcuts and information about PowerPoint that you may not find elsewhere and may not know about.
We are also pleased to announce that you can now instantly download 1900+ PowerPoint charts, diagrams, infographics, and background themes. Know more about pack by clicking on the image below.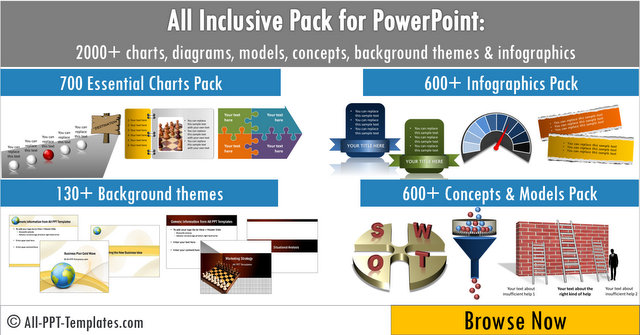 Overview of Features
Instant download of 1900+ pre-designed ready to use and fully editable diagrams, charts, infographics, graphs and Background themes for PowerPoint. Make your presentations professional in minutes.
New PowerPoint Tutorials
3D PowerPoint Tutorials:

Learn to use 3d format, bevel and perspective options in PowerPoint to create stunning diagrams.

1. Understanding PowerPoint 3D Bevel

You can also find and download the Quick Help Guide Infographic for 3D options in PowerPoint ( available in the tutorials above)


Discover PowerPoint Features:

Discover lesser known PowerPoint features in this section.

1. Creating Interactive Presentation in PowerPoint

2. 3 Things You Didn't Know About Using Connectors

Hope you find these new tutorials and templates pack useful. If there are any queries or suggestions, do write back at this email ID.

Best Regards

Arte R

All PPT Templates