PowerPoint Project Proposal:
Presentation Design Makeover Example
Design makeover of a project proposal presentation of a software company sending a proposal to a client.  The section from which each template is mentioned near the made over slides.

Many of the charts, themes & background Templates for resigned slides are taken from  All Inclusive PowerPoint Templates Bundle

Click on the slides below to view them in detail

| | | |
| --- | --- | --- |
| Typical Project Proposal Slides | |  Project Proposal Slides After Makeover |
Presentation Title Slide


Project Report Themed Slide


About Company


Circular list showing company details


Slide with 2 Key points


Creative Infographics showing points


This slide has a detailed listing of customer requirements.  It is not linked to the solution suggested in the next slide.


Customer requirements have been matched to the solution with a Image Relationship Template


Detailed listing of solution provided


Requirement - Solution Matching (2)


Waterfall Model followed to provide solution in bullet format


Waterfall models from Creative Process


Cost structure as a bulleted list


Cost Flow shown as a Process


Term Hierarchy as a simple list


Team hierarchy shown visually


Conclusion slide with a list of points


Key Terms:


An additional slide on key terms used in the presentation has been added.

Typically in a technical presentation, the presenter uses software terms the audience may not be familiar with. The abbreviations used in this presentation are explained in this additional slide. 

Much of the content is taken from slide 6 showing the model proposed.

---
Issues with the 'usual' slides in the project plan presentation above:

Uninteresting slide format and theme

No effort to process information and present it meaningfully
The presentation is to be read by the customer. It needs to be far more interesting.

There are no visuals or diagrams used to simplify the information.


Benefits of redesigned slides in the above presentation:

Professional and Interesting look and feel.

Use of colors to make points standout.

Highlights key points and reduces verbosity
Combines slides to create more meaningful information

Information has been processed into meaningful diagrams

Use of images to present information clearly
Makes it interesting & easy for the customer to go through.
Here is an overview of the before and after slides used in this design makeover:

You too can create or redesign your presentation in minutes with the 2000+ charts and background templates available in at All PPT Templates.

Templates are fully editable in PowerPoint. You can add or remove elements.
The templates adapts to the color theme of your presentation
Add any background you like & customize to your corporate requirements. All templates are created in a white background.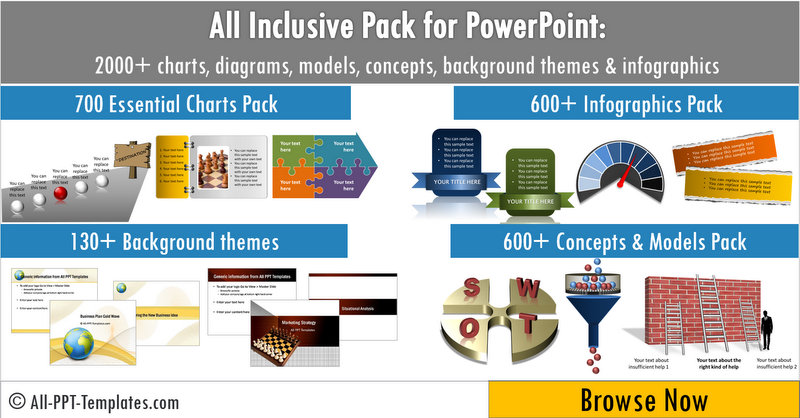 Return to top of PowerPoint Project Proposal Presentation Page
Browse more Presentation Make over Examples