How To Create Custom PowerPoint Template for All Your Business Presentations
---
In this article,  you will learn how to create custom PowerPoint Templates for all your business presentations for consistency and branding
There are times when you want to standardize the look and feel of the presentations made by your organization for the sake of brand identity. There may be times when you want to standardize the nature of content presented by your team members, so you could compare performance across the team. How do you ensure standardization of slides when there are multiple people creating the content?
The answer is: You can create custom templates in PowerPoint to ensure consistency across presentations. In this article, we will learn how to achieve that in a step by step way.

Step 1: Create the outline using Slide Titles
Let us say you want your team members to present their individual monthly sales performance. The topics of the slides could be:
Executive summary, Sales vs Quota, Reasons for positive performance, Areas to improve, Action Plan with dates.
You create a sample presentation with slide titles as shown below: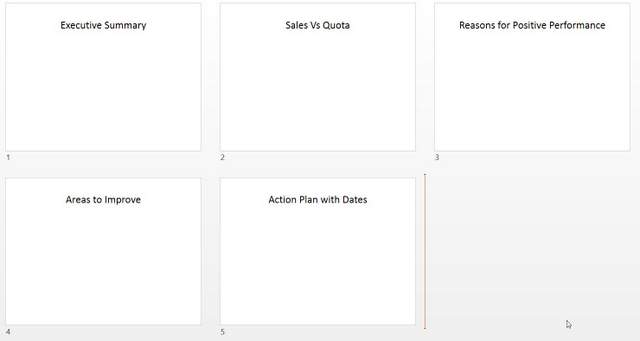 Example Business Presentation
You can also write a small description regarding the type of charts you want them to include in the report. You can write about the points you want them to include in the executive summary etc.
When others create their presentations based on this outline, you ensure that you get the information you need. Since the slides have the same type of information you can easily compare performance across team members and design strategies to improve performance.

Step 2: Create a Standardized Design
The next step is to ensure that all the presentations look and feel the same. So, you go to Slide Master and create a standard design as follows: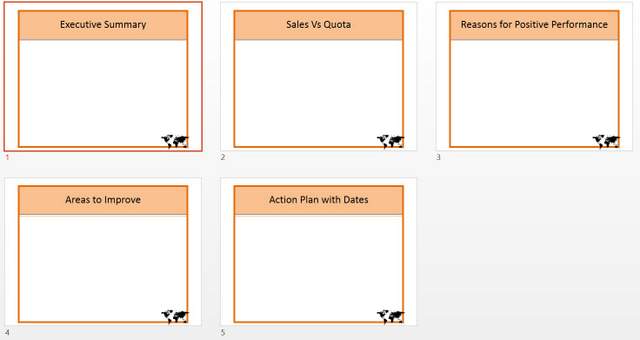 PowerPoint With Standard Design
Now, your team don't have to waste time working on the aesthetics of the slides and focus on the content instead. 
Step 3: Save as Custom Template
Once you create the outline with design, you can save the presentation as a PowerPoint template (.potx) file.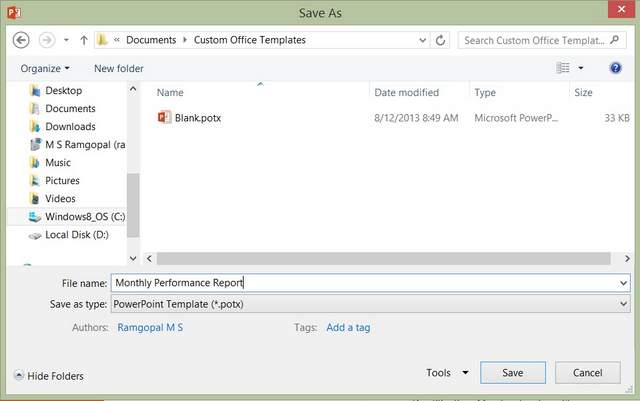 Save As Custom Template
Don't change the location suggested by the program. This ensures easy retrieval of the template in case you want to create a presentation based on your own template.
Step 4: Accessing the template 
In PowerPoint 2013 
In PowerPoint 2013, you can find the custom templates saved in a folder called 'Custom office templates' under 'Custom' tab in the start screen as shown below: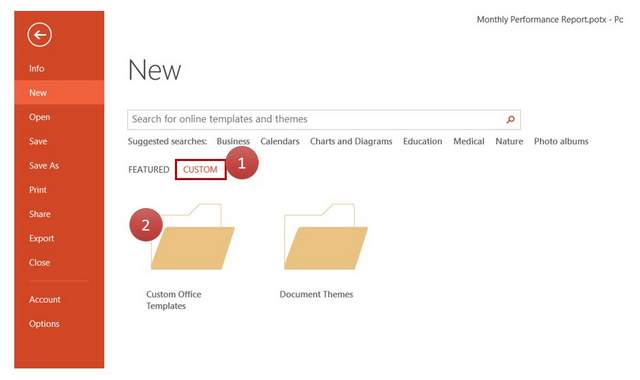 Access Custom Template
Once you open the folder, you can easily browse through the templates to locate your specific file: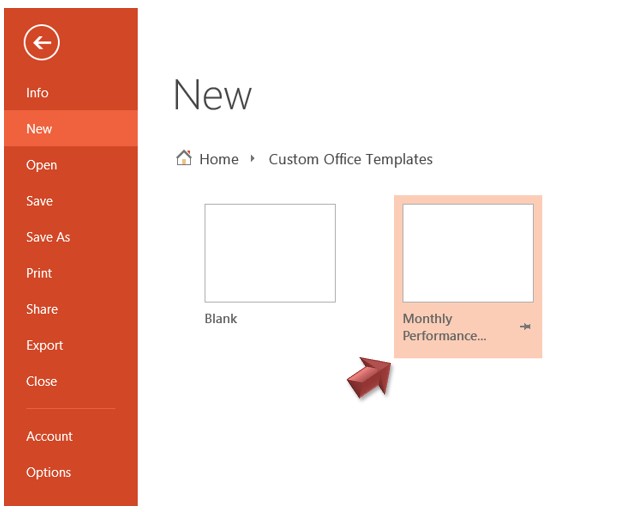 Open Custom Template
When you click on the template, the pop up option looks the same as any other template you can download from the Start screen: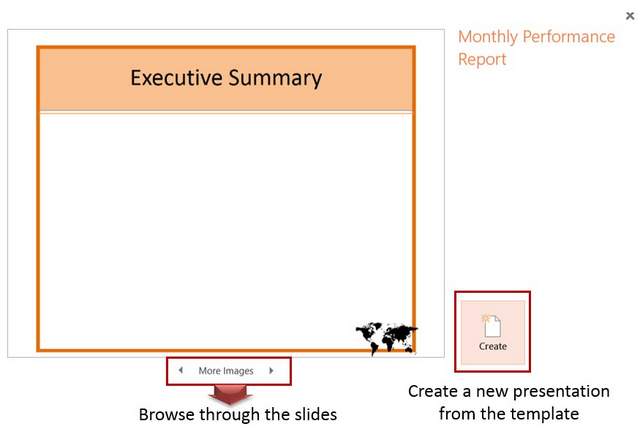 Preview Custom Template
You can browse through the slides using 'More images' option without having to open the presentation. When you want to create a new presentation based on the template, you just need to press the 'Create' button.

In PowerPoint 2010 
If you use PowerPoint 2010, you can access the templates under 'Documents' folder and 'Custom Office Templates' sub folder. 

Open Custom Template in PowerPoint 2010
In PowerPoint for Mac 
You can find instructions on Microsoft site on how to save potx files in Mac here.

Thus custom templates can save tons of time in creating consistent presentations by different members of your team.

Another way to save time :
If you are a busy business presenter, there is another way to save time in creating your presentations. You may use high quality templates to create your business slides with ready to use diagrams and charts. 
Please browse through our Ready To Use Infographic templates collection to see the difference our templates can make to the quality of your presentations. All the diagrams and charts are 100% editable. You just need to replace sample text with your own text to create business slides that make your presentations remarkable.
Why waste time creating your graphics and diagrams from scratch, when you have such high quality solution available off the shelf?

PowerPoint Infographics Pack
We hope you found this article useful. If so, please share this article with your friends and leave your comments below

---
Related Posts

---

Top of Page : Custom PowerPoint Templates