PowerPoint Agenda Slides

---
P
art of : 700 PowerPoint Essential Charts Pack
Instantly download 700 ready to use and fully editable diagrams & charts for PowerPoint. Includes Agenda, Bullet Points, Callouts .....to....Roadmap, Timeline & Thank you Slides. Make your presentations professional in minutes.

A range of agenda slides templates to show the structure of your presentation. You can easily add or remove the number of points listed. You can also show summary, review or bullet points with these slide templates.  You can repeat the Agenda slides as sub-headers to show the next set of points being covered.


These templates are fully editable and the colors and shapes can be modified to suit your requirement.

---
Click on images below for larger view
---
| | | |
| --- | --- | --- |
| List of points with check mark | | 4 parts of a presentation  in folder style |
| Summary of contents - folder style | | 4 Agenda Points with designer outline |
| 4 Key Points Summary with icons | | 4 Key Points covered in call outs |
| 4 points with curved arrows showing titles | | 4 stacked points list with 3D rectangles |
| 4 points in detail with an arrow highlight | | 5 point agenda slide |
| | | |
| --- | --- | --- |
| 5 points with details | | 4 key points with details |
| 5 point agenda | | 10 point list |
| To do list | | 2 sets of points as pinned sticky notes |
| 3 sets of ideas as creative designer cards | | List of things to do - creative sticky notes |
| 5 related points to be discussed | | 6 point agenda in circular format |
| 6 point agenda with tear shape in a circle | | 4 Key points & sub-points |
| 6 related points | | 8 point summary |
| 6 Point circular agenda | | 6 Point agenda diagram |
| Segmented arrow for section header | | Section header diagram |
Section header diagram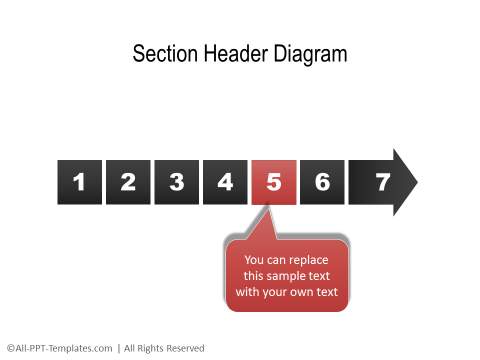 ---
Return to Top of PowerPoint Agenda Page
---