PowerPoint Timeline Templates: Change

P
art of : 700 PowerPoint Essential Charts Pack
Instantly download 700 ready to use and fully editable diagrams & charts for PowerPoint. Includes Agenda, Bullet Points, Callouts .....to....Roadmap, Timeline & Thank you Slides. Make your presentations professional in minutes.

---
Find a range of timelines that show growth and  change over a period of time. These templates include spirals, arrows, curved lines to more complex 3D stages. This range helps you present your content in the best way possible.

All templates are fully editable. You can edit them, change colors etc. easily.

---
---
Click on images below for larger view

| | | |
| --- | --- | --- |
| 6 reasons for spiraling growth | | 7 levels of  spiraling growth |
| 4 levels of spiraling growth | | 6 arrows timeline |
| 3 stages along the growth path | | 5 growth factors |
| Progressive growth shown with 3D arrows | | Growth from Point A to Point B in 5 stages |
| Growth over 5 stages shown with overlapping arrows moving upwards | | Increase over 5 steps shown by growing size of arrow shapes |
| Stages with U-shaped growth | | Movement from start to finish |
| 5 stages showing development | | 6 stages of expansion |
| | | |
| --- | --- | --- |
| 4 steps to advancement | | 3D curved arrow timeline |
| Phases of growth and decline | | 5 connected time periods |
| S-shaped movement shown with 3D lines | | Concept of change creating ripple effect |
| Ups and downs over time with curved arrows | | 7 linked periods with change |
| 5 points bouncing | | Metallic 4 period timeline |
| | | |
| --- | --- | --- |
| Notched arrows showing changing phases | | Variation in performance over time |
| Up and Down movement for 4 periods | | PowerPoint timeline for 5 periods with s-shape |
| Diagram showing changes over time | | 5 year timeline showing changes - with callouts |
| Triangular milestones for events over 6 periods | | Change over time shown with metallic arrows |
| Arrows showing downward movement | | 6 causes of decline |
| Growth over 8 periods | | Upturn and downturn over time |
| Decline over 5 stages | | Stage wise decline |
5 stage fall in growth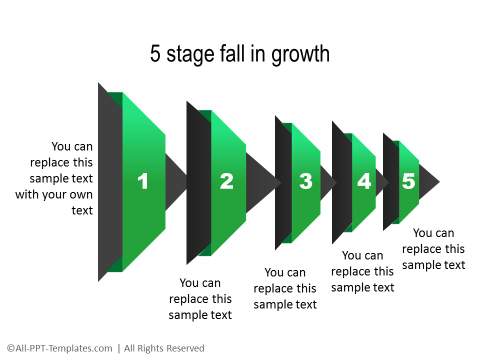 ---
---
Return to Top of PowerPoint Timeline for Change