PowerPoint Shapes Diagrams
P
art of : 700 PowerPoint Essential Charts Pack
Instantly download 700 ready to use and fully editable diagrams & charts for PowerPoint. Includes Agenda, Bullet Points, Callouts .....to....Roadmap, Timeline & Thank you Slides. Make your presentations professional in minutes.

---
Find a range of fully editable and useful shapes including triangles, squares, hexagons, moons, pentagons, octagons, stars, moons and more.


You will find templates with different types of 2d shapes segmented.  You can modify these templates to suit your requirement as they are fully editable.

---
Click on images below for larger view

---
| | | |
| --- | --- | --- |
| Segmented hexagon shape | | Segmented hexagon shape with details |
| 6 points coming together - animated | | Hexagon with 6 parts |
| Hexagon with 6 parts | | Pentagon shape in 3 parts |
| Arc shape with 4 segments | | Segmented arc with details |
| Segmented pyramid diagram | | 3 tier pyramid diagram |
| | | |
| --- | --- | --- |
| Segmented triangle shape | | 4 parts of a triangle |
| Segmented triangle shape | | 7 segments with circular arrow |
| 6 segments with circular arrow | | 5 segments with circular arrow |
| 4 sides of a square integrated | | Segmented square shape with core |
| | | |
| --- | --- | --- |
| Octagon with 8 segments | | 6 segments of a 3D shape |
| 5 points coming together- animated | | Integration of 6 factors |
| Integration of 5 factors | | Integration of 4 factors |
| 4 factors affected by outside forces | | 4 interrelated factors |
| 3 interrelated factors around a core | | Integration of 3 factors |
| 3 Interrelated factors variation | | 3 moon shapes around a core |
| 2 opposing sides of a doughnut shape | | 3 opposing sides of a doughnut shape |
| 4 opposing sides of a doughnut shape | | 5 opposing sides of a doughnut shape |
| 6 opposing sides of a doughnut shape | | 7 opposing sides of a doughnut shape |
| 5 aspects of an issue | | 3D star shape in PowerPoint |
| | | |
| --- | --- | --- |
| 6 sided star | | 3 sided shape |
| Triangle diagram | | Square diagram with 4 sections |
| Triangle diagram with 6 sections | | 3D Triangle diagram |
| 4 stage segmented pyramid | | 3 level animated pyramid |
| 4 level animated pyramid | | 5 level animated pyramid |
6 level animated pyramid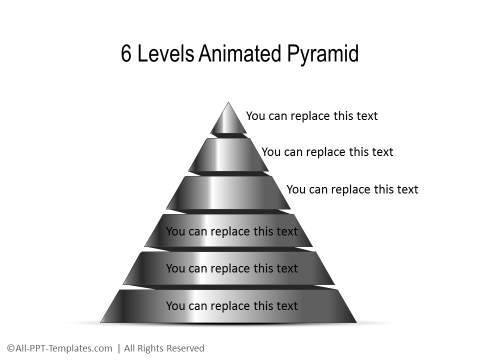 ---
Return to Top of PowerPoint Shapes Page
---