PowerPoint Roadmap Templates

---
P
art of : 700 PowerPoint Essential Charts Pack
Instantly download 700 ready to use and fully editable diagrams & charts for PowerPoint. Includes Agenda, Bullet Points, Callouts .....to....Roadmap, Timeline & Thank you Slides. Make your presentations professional in minutes.

Find creative and fully editable roadmap templates with different concepts like milestones, next steps, path from A to B, road to target etc.

Use these templates in your presentations to share your vision for the future. These templates are fully editable and can be customized easily to your presentation.

Click on images below to view details and download templates. 
---
| | | |
| --- | --- | --- |
| 5 red glossy balls showing milestones | | 5 stages along a road with detailed text |
| Markers along the road showing milestones | | Concept of barriers along the curved path |
| Roadmap with 3 simple signboards | | Roadmap showing milestones in the future |
| Different points along a curved path pinned | | Getting from current to future situation |
| Steps on Path to reach the money or prize | | Steps to reach the destination with details |
| 4 detailed milestone graphics along a path | | 5 points pinned along a path with details |
| | | |
| --- | --- | --- |
| Curved road with milestones to target | | Steps ahead shown as footsteps in sand |
| 3D roadmap with 3 steps in sequence | | 4 steps along a road |
| 4 diverging paths | | Crossroads of decision |
| Creative road map showing 3 steps together | | Getting from Point A to B with 3D discs |
| Joining of 2 paths concept with detailed text | | 2 options for evaluation |
| Roadmap with image | | Points along a path |
Curvy roadmap with 6 milestones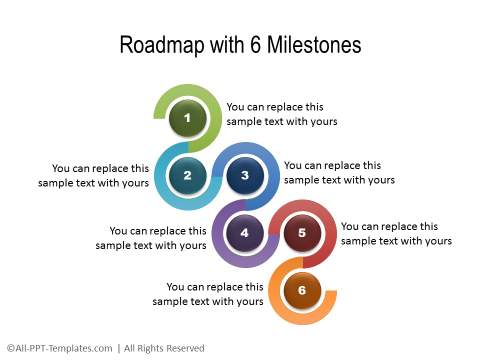 ---
Return to Top of PowerPoint Roadmap Page
---