PowerPoint Image Templates Showing Comparisons : 2

P
art of : 700 PowerPoint Essential Charts Pack
Instantly download 700 ready to use and fully editable diagrams & charts for PowerPoint. Includes Agenda, Bullet Points, Callouts .....to....Roadmap, Timeline & Thank you Slides. Make your presentations professional in minutes.

In this section you will find templates suitable to present comparisons with images on both sides. You can share pros & cons, product comparisons, packaging comparisons etc. with these templates.

All images can be easily replaced with your own and the templates are fully editable.

Click on thumbnails below to view larger image

---
| | | |
| --- | --- | --- |
| Glossy spheres with images and text | | 2 options with images and descriptive text |
| 2 different options displayed on laptop | | Black and White opposites |
| 2 different sets of ideas | | 2 views on subjects |
| Image with 3 opposing points | | Positives and Negatives |
| Central idea evaluated | | 2 different ideas with images |
| 2 pictures with comparison | | 2 different ideas converging |
2 opposing ideas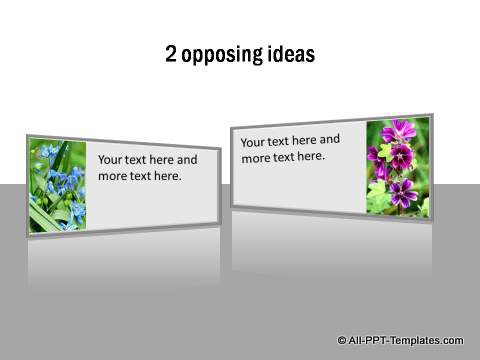 Return to Top of PowerPoint Image showing Comparisons Page