PowerPoint Corporate Presentation : Design Makeover Example
Design makeover of corporate presentation of an IT technology company.  The section from which each template is selected is mentioned at the lower left corner of each slide.
All charts, themes & background Templates for resigned slides are taken from  All Inclusive PowerPoint Templates Bundle

Click on the slides below to view them in detail

| | | |
| --- | --- | --- |
| Usual Corporate Presentation | | Redesigned Corporate Presentation |
Standard Title Slide


Theme from Business Plan Sets applied


Usual Agenda Slide


Design from Agenda slide templates


Usual Corporate Presentation Slide


Design from Images & Icons Templates


Usual corporate vision slide


Source: Information Graphics Template


Typical listing of services offered


Source: Converging Arrows template


Usual team details slide


Source: Team Hierarchy Templates


Listing of customers


Source: Image Layout Template


Listing points related to road ahead


Source: Roadmap Templates


Typical Thank You slide


Source: Thank You Slide Templates


Issues with the 'usual' slides in the corporate presentation above:

Boring format
Excessive use of long sentences
Looks complex to understand
Lacks a cohesive look
Does not reflect professionalism of the company


Benefits of redesigned slides in the above presentation:

Professional look and feel
Highlights key points and reduces verbosity
Use of icons, logos to present information clearly
Use of theme color to show energy
Makes it interesting & easy for a customer to go through
Additional critical information like contact details added

Here is a screenshot of the before and after design makeover slides:

You too can create or redesign your presentation in minutes with the 1900+ chart and background templates available in All Inclusive PowerPoint Templates Bundle.

Templates are fully editable in PowerPoint. You can add or remove elements.
The templates adapts to the color theme of your presentation
Add any background you like & customize to your corporate requirements. All templates are created in a white background.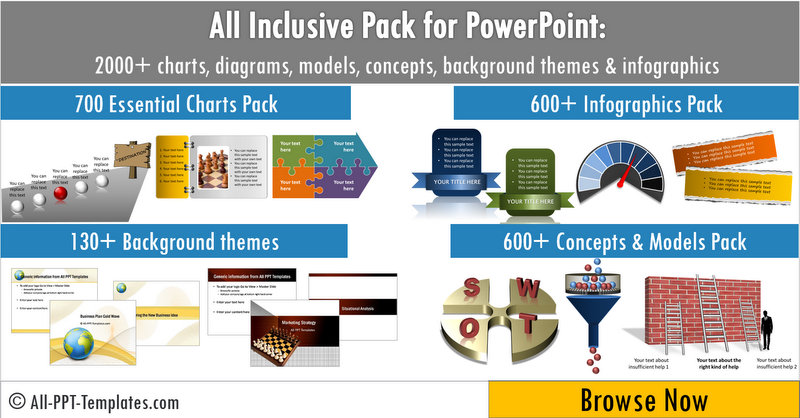 Return to top of PowerPoint Corporate Presentation Page
Browse more Presentation Make over Examples